Võrumaa Partnerluskogu
Location: Võru County
Number of local action group members: 58
Population of the region: 21 099
Territory: 2 295,2 km²
Office contact information:
Jüri 12 – 138, 65605, Võru, Estonia
See e-posti aadress on spämmirobotite eest kaitstud. Selle nägemiseks peab su veebilehitsejas olema JavaSkript sisse lülitatud., www.voruleader.ee
Contact person:
Ms Kerli Kanger, LAG manager
See e-posti aadress on spämmirobotite eest kaitstud. Selle nägemiseks peab su veebilehitsejas olema JavaSkript sisse lülitatud.
+372 53 451 330
Chairman of the Board:
Mr Kalmer Puusepp


Võru County located at the Estonian South – East and is one of the smallest counties, which is also the furthest from the capital Tallinn. The LAG consists of ten rural municipalities from which four are bordered with Latvia in the South. Võru County is amazingly versatile, has untouched wild nature and bilingual- in addition to Estonian, Võru dialect is used quite a lot. Making cottage cheese, going to smoke sauna and playing Teppo's accordion (named after August Teppo, the developer of the most common accordion type in Estonia) are part of everyday culture.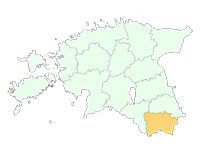 LAG Võrumaa Partnership Assembly was established in 2002 and received its legal status in the beginning of 2006. Status of local action group for period 2014-2020 was received on 1 of March 2016.
The main goal of Võrumaa Partnership Assembly is to develop our area and help to create better living and working conditions, maintain local cultural heritage and traditions.
Our Priorities of the Local Development Strategy for the period 2014-2020 are:
Village and culture

Submeasure: The development of village communities
Submeasure: Preserve local cultural heritage through joint cooperation activities

Entrepreneurship

The development of entrepreneurship environment
The development of small industrial enterprises

Cooperation (encouraging international and local cooperation)
All cooperation ideas and project proposals are welcome.
Period 2008-2013
LEADER strategy 2008 – 2013 was completed in 2015. During period was implemented 289 projects in total sum of 3,3 million euros.
The priorities and measures of the 2008 – 2013 strategy were:
Improving the quality of life

Measure 1: Strengthening the initiative of village communities and improving quality of life was supported 147 projects

Develpment of entrepreneurship

Measure 2: Support for small enterprises and infrastructure was supported 82 projects.

Youth

Measure 3: Supporting youth activities was supported 60 projects.
Our main activities and cooperation
UMA MEKK TRADEMARK:

Võrumaa Partnership Assembly owns a trademark named UMA MEKK. UMA MEKK is a trademark for food that has sprung up from soil and has been grown and made with care and love by the people of Old Võrumaa. Its aim is to develop an environment for local small entrepreneurs, to exchange experiences, acknowledge and to guide them to start cooperating and working commonly.
For today there are 180 different food products that have UMA MEKK trademark.
Contact: See e-posti aadress on spämmirobotite eest kaitstud. Selle nägemiseks peab su veebilehitsejas olema JavaSkript sisse lülitatud.
SOUTH –ESTONIA VILLAGE SUMMER SCOOLS:
Cooperation activity of tree South Estonian LAG-s: Valga County Partnership, Põlva County Partnership Board and Võrumaa Partnership Assembly. The aim of the event was bring together active village people to exchange the best practices in development of local life.
National Geographic project

Six countries in South Estonia have opened the route "Living on the edge" for visitors, inviting local people as well as quests to learn about the rich cultural heritage, wonderful nature and innovative organizations of the region. In cooperation with local communities, 21 sigh worth discovering were chosen and designed bright yellow National Geographic windows. Our LAG owns three NG windows. More information about the project: http://visitsouthestonia.com/
Woman the hunter

Transnational cooperation pre-study project with Finland Karelian Hills Leader. The aim of the project is to highlight the good and sustainable hunting practices and culture. Per- study project involves three actions: Participation in hunter's reunion event, study trips to Slovakia and Finland and seminar.
In 2017 we hope to start two year transnational cooperation project with Finland, Slovakia and Germany. Themes of the international project are following: wild food, nature-or/and game conservation action and education.
Photo gallery: https://plus.google.com/108652911303538633080/photos
To get information of our region please visit links to Võru County information:
Visit Võru: http://www.visitvoru.ee/
Võrumaa Tourist Information Centre: http://www.visitestonia.com/en/vorumaa-tourist-information-centre
South Estonia http://www.visitestonia.com/en/where-to-go/south-estonia